MACA To Unveil Latest Advancements for Its Flying Race Car at CES 2022 in Las Vegas
French startup MACA is set to unveil their most recent innovative updates for the company's Flying Racing Car at CES 2022 which takes place in Las Vegas, Nevada, January 5-8.  Exhibiting from Eureka Park Booth #61244 and # 61246 in The Venetian Expo Center, MACA will deploy a live demo, enabling visitors to experience the amazing look and feel through Augmented Reality, as though they are actually next to MACA's hydrogen-powered flying vehicle. (Hydrogen Fuel cell).

The pioneering, eco-friendly design emanated from the fertile minds of two aviation experts: ex-fighter pilot Thierry de Boisvilliers and Airbus executive Michael Krollak, who bring to MACA a combined 60 years of aeronautics experience. The pair originated their flying car concept while working at Airbus, as an experimental R&D project on which they spent three years developing, launching the first prototype flight in 2019. The duo founded MACA as a spinoff from Airbus in 2020 with the goal of bringing this venture to fruition, making flying cars a reality with the first H2 Flying Race Car.
Racing served as the focus for de Boisvilliers and Krollak since auto racing operates on a smaller stage, and because historically, race cars have had a tremendous impact on the evolution of automobiles. Aerodynamics, steering wheels, suspension, transmissions, turbochargers – nearly every element incorporated into modern vehicles – was born from auto racing.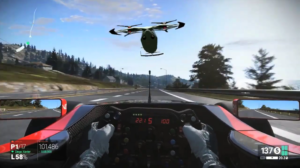 "because our initial focus begins with regulations and compliance," de Boisvilliers said.  "We are working closely with the European Aviation Regulatory Agency (ARE) as we build and certify what will clearly be the flying car of the future … and we're talking months, not years or decades.  We are targeting manned flights by the end of 2022 with the plans to put this vehicle on racetracks by the end of 2023."
According to de Boisvilliers, European Aviation certification will ultimately pave the way for North America to follow through the FAA.

"The ultimate objective is for MACA to deliver what we have all anticipated for well over half a century … the creation of a realistic flying vehicle answer to urban congestion," said de Boisvilliers.  "Integrating Racing technology into Electric Vertical Take Off and Landing vehicles (eVTOL) will provide a safe, viable solution while also respecting and minimizing environmental impact."